The Houston Texans and Buffalo Bills went into Week 4 with a record of 2-1. Both teams needed the win, yet it was hard to tell since both teams didn't manage to score in the first quarter. Both offenses looked like a big wrestling brawl on the field dropping balls, missing passes, tugging, pulling and not putting any points on the board.
The Bills came back in the second quarter and put 10 on the board with an EJ Manning touchdown pass to wide receiver Sammy Watkins and a field goal by kicker, Dan Carpenter. Deep into the second half with less than a minute on the clock Fitzpatrick connected with wide receiver DeAndre Hopkins for a 35-yard touchdown with the Bills leading 10-7 in the half.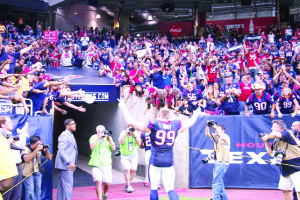 At the top of the 3rd Quarter with the Texans possessing the ball, Fitzpatrick threw an interception that ended in the hands of outside linebacker Nigel Bradham. Two plays later, something magical happened, Manning threw a pass which was intercepted by JJ Watt on the 20. Watt brought it for an 80-yard touchdown. Texans led 14 to 7.
A 41-yard field goal by Texans kicker Randy Bullock earned the Texans three more points putting them out front with a 17-7 lead after a 12-play, 42-yard drive guided by Fitzpatrick.
Early in the fourth quarter Bullock scored again with a 55-yard field goal. After the kickoff, Bills wide receiver Mike Williams caught a, 80-yard touchdown. The score was Texans 20 and Bills 14.
The Texans responded with a 50-yard field goal with less than five minutes to go for a 23-17 lead. This was Bullock's fourth field goal in the game. With only a 1:14 left on the clock Buffalo tried to go deep for a touchdown but it was intercepted by Texans defensive back Darryl Morris.
Even though it was a victory for the Texans, Fitzpatrick performance was not that good. He threw for 268 years with two interceptions. The Texans might consider bringing in backup quarterbacks, Ryan Mallett or Tom Savage to get some field time on the upcoming game against the Dallas Cowboys.