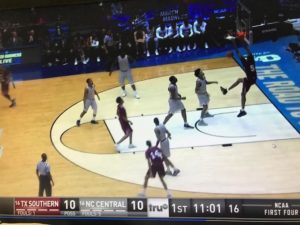 Texas Southern University beats NC Central, 64-46
Demontrae Jefferson from Milwaukee put on a show in Texas Southern's First Four win over NC Central. The Sophomore and SWAC MVP recorded a game-high 25 points to go along with 8 rebounds. He has put up 1,000 points in his young career shooting 8-18 to lead TSU to history for the school first win in an NCAA Tournament after eight attempts.
Their next stop comes against an East Region top seed Xavier in Nashville on Friday night.
The Tigers got off to a slow start in the First Four bracket against the North Carolina Central Eagles making only two of their first nine shots. There star Jefferson hit a jumper and the Tigers seems to have gotten their footing and hit 8-13 baskets. Jefferson had 17 points at halftime and TSU was ahead 36-26.
The Eagles made a push early in the second half to no avail. The Tigers thwarted all attempts after an 11-2 run, NC Eagle, Pablo Rivas' ended the drought but Tiger Donte Clark quickly answered.
Clark ended the night with 18 points for the Tigers on seven free throws and just 4-14 from the field. Trayvon Reed helped the Tigers to victory by blocking six shots and scoring 10 points off the bench.
Coach Mike Davis coached the Tigers to historic victory after an early season of playing top national teams throughout the country. The Tigers are now 16-19 as they head to Nashville for Friday's game against Xavier.