Snowboarding champion and "Dancing With The Stars" finalist, Amy Purdy who lost both of her legs from a bacterial meningitis infection 16-years ago has a lot to be thankful for and she is sharing her story and inspiring others on Oprah's "The Live the Life You Want" Eight City Tour which kicked-off in Atlanta in the early fall and will end in San Jose in November.  The Houston dates are October 17 -18 at the Toyota Center.  Purdy is representing the tour's title sponsor, Toyota as the Toyota Athlete and Brand Ambassador.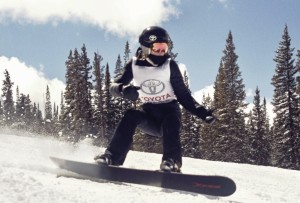 Her story is one of inspiration and courage.  She refused to succumb to a disease that shut down her kidneys, robbed her of her spleen and legs.  Instead she decided to fight back and she triumphed. Within seven months after receiving her prosthetics she was back on the fresh white snow doing what she loves; gracefully descending down mountains and standing tall on her snowboard.
"With a grateful heart anything is possible no matter what the circumstances are.  You have to push off the obstacles to move forward.  I don't look at myself as a victim or someone who lost their legs. I am thankful for my prosthetics. They have allowed me to travel the world and afforded me many opportunities," said Purdy.
Purdy was invited by Oprah to share her triumphant story on the "The Live the Life You Want" tour.  In addition, Purdy also joins Oprah on stage to recognize extraordinary people in each of the cities who have made a profound difference in their communities. Purdy the presents the recipient(s) with the Toyota Standing Ovation Award, a $25,000 grant to help the recipient(s) to further fund their causes.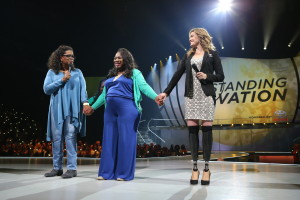 "I am so honored to be a part of this.  I was really touched by the Newark, New Jersey Toyota Standing Ovation recipient, Tawanda Jones, founder of the Camden Sophisticated Sisters Drill Team.  This lady has made a huge impact on the lives of the students in her community where only 50% graduate from high school," said Purdy.
She continued, "Ms. Jones has empowered and inspired these kids to move forward.  The amazing factor is that 100% of the kids that has come through her program have all gradated high school. Right now there are 400 students on the waiting list.  I hope that the $25,000 will help her find a building and expand."
Purdy doesn't like to call herself a motivation speaker but a storyteller and sharer of life stories.  She believes in working hard and she sees herself as a perfectionist. I really enjoyed "Dancing With The Stars."  As an athlete, I was used to training for long periods.  So, I didn't mind the intense training.  I enjoyed the experience and actually came out as a pretty good dancer. ," said Purdy.
When speaking to audiences throughout the nation.  No matter if the setting is a college campus or a large corporation; there are always two common questions that people asked Purdy.   One refers to her pivotal moment in overcoming her crisis and the other refers to her tenure on "Dancing With The Stars."
"I always tell people that you don't necessarily overcome but you make it through any difficulty with gratitude.  You have to believe and be grateful through situations.  Most people    wait for things to perfect and that is not it.  It is about pushing through an obstacle and moving forward which can open new doors and opportunities," said Purdy.
Purdy's story has opened many doors for her and she travels nine months out of the year.  When Purdy is not on the road with her speaking engagements, television appearances and acting, she relaxes at her home in Colorado.
And the day I was speaking with her she was at home carving pumpkins before she got back on the road with the Toyota Standing Ovation Award/Oprah's Live the Life You Want Tour.
sheilarayreed@houstonsun.com