Basketball trailblazer, Earl "Bigcat" Lloyd the first African American ever to play in the NBA (National Basketball Association) passed away on Thursday at the age 86.   Lloyd made his debut in 1950 for the Washington Capitals.  During the same year three other black players were drafted by the NBA but Lloyd was the first one to make it to the court.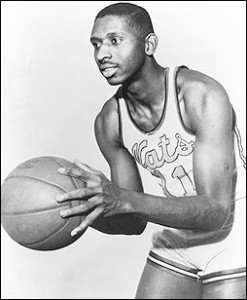 Known for his defense, Lloyd was selected in the ninth-round of the 1950 draft.  He played for nine seasons in the NBA.  His first game was on October 31, 1950 against the Rochester Royals.   He only had a seven game stretch with the Washington Capitals before the team folded in January of 1951. 
            He was picked up by the Syracuse Nationals (currently the Philadelphia 76ers) where he spent six seasons.  Lloyd went on to play two seasons with the Detroit Pistons in 1958-60 before he retired.  He also coached the Pistons in 1971-72 season where he was 22-55 and the first nine games in the 1972-73 season.
            Lloyd helped the Syracuse Nationals win the 1955 NBA Championship Title.  In 2002, he was inducted in the Basketball Hall of Fame.
            Lloyd said he encountered virtually no racist treatment from his teammates and opponents during his time in the NBA.  However the spectators were not so tolerant.  In a posting on the National Basketball Association website Lloyd solution to dealing with racist audiences was to play harder and ignored them.
            "Fans would yell stuff like, 'Go back to Africa.'  And I'm telling you, you would often hear the N-word. "My philosophy was if they weren't calling you names, you weren't doing anything. You made sure they were calling you names, because you were hurting them," said Lloyd.
            The three other African Americans to play in the same season were Chuck Cooper, Nathaniel Clifton and Hank Dezonie.