The 2015 Toyota SWAC (Southwestern Athletic Conference) Basketball Tournament which runs March 10 -14 at the Houston Toyota Center will be shaking it up for the fans with a line-up of name performers in addition to some spell-bounding competitive basketball.
On Friday March 13, Hip Hop Trio Salt-N-Pepa featuring DJ Spinderella and R&B quartet 112 will perform some old-school magic.  The following day, Saturday March 14, debonair rapper Rick Ross and friends will take the stage in a post-championship concert.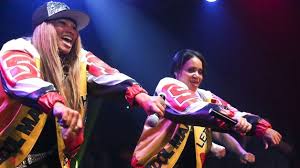 The SWAC 2015 Concert Series will continue on Sunday with a special performance from The Forever Charlie Wilson Tour with his special guests musical sensations Kem along recording artist Joe, "I Wanna Know".
All-session booklets, which include admission to all of the tournament games and select ancillary events, are available for just $125.  Individual session passes and tickets to the championship night games are also available.
They can be purchased online at www.swachoops.org or www.houstontoyotacenter.com, in person at the Toyota Center box office, or over the phone at 1-866-446-8849.
The Forever Charlie Tour is not included in the all-session booklet.
Winners of the 2015 Toyota SWAC Basketball Tournament will have a chance to advance to the NCAA Basketball Championships.