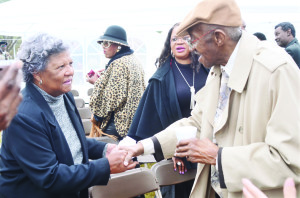 The Black Heritage Society hosted an official unveiling of donors and supporters at the Martin Luther King, Jr. Statue in Mac Gregor Park on Saturday, November 22, 2014. Although it was a way to acknowledge supporters, Ovide Duncantell was the star of the show and received his flowers while he can smell them.
Councilmember Dwight Boykins, District D, served as Master of Ceremony for the occasion. He is known for his praise of Duncantell and also told of his long history with him and his influence over his life. DeWayne Lark, President of the Harris County Council of Organizations also offered words in the same manner.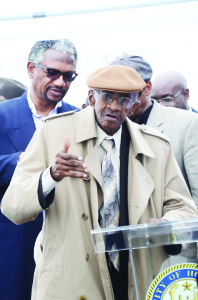 "Ovide Duncantell is selfless. This is about the friends that made this happen, but for me it is about a visionary and the fact of how many other visionaries are here inspiring," said Lark.
Elected officials such as Constable May Walker, Congresswoman Sheila Jackson Lee, State Rep. Harold Dutton and State Rep. Ron Reynolds came out to give their gratitude to Duncantell for his leadership over the years.
Affectionately called a "Rebel Rouser", Duncantell's reputation for fighting for people of color earned him many praises and also led to the MLK statue in which everyone gathered at in the rain to celebrate.
"It is a distinct honor to have a token of appreciation," said State Representative Ron Reynolds. "Thank you for being a trailblazer and being consistent over the years, you have sacrificed your time and we wouldn't be here if it wasn't for you and the Black Heritage Society. It's important to give you your flowers while you're alive."
His appreciation and thanks were given to Duncantell with a flag flown over the State Capitol on November 19th.
Duncantell was cited as the reason why many people began their political careers while paving the way for them. He planted the seed in them to become political, he was their inspiration.
Minister Robert Muhammad who also worked along Duncantell on the MLK statue had words of wisdom for the community about how elders are treated.
"This is Mr. Ovide Duncatell's dream to have this statue, my job as an elder in training is to make sure that one of our elder's dreams get fulfilled in his lifetime," said Muhammad. "I get tired of passing around the bucket and the basket to bury our elders or to buy funeral programs for them when they paid the price for us to be standing where we are."
He went on to credit the donors and supporters by saying, on this program the important people are the names on the back of the program. Those are the people whose names are on the plaques on the tree of life, along the chronology wall and down at the opening on the pathway leading to the statue.
"He is an icon in the community, he brought about something that none of us would have imagined," said Muhammad. "The partners that are here, the corporate partners and the governmental partners would not have come to the table if it wasn't for Mr. Duncantell's will to get it done."
The icon soon stepped up to receive his "flowers" and praise but in the fashion of Ovide Duncantell he reminded everyone of the struggle of the African American people in Houston. He also honored his friend Johnny Mata for his work alongside him over the years to improve the lives of all people of color.
"I believe in us having our own. We don't need to wait for anyone else to give us power. When you are strong and united like a fist you can take power, they don't give it away," said Duncantell. "They said Dr. King name would never rise in this town. It took 30 years for us to get here. We took up the mantle."
Although this was an event for the donors, those who gathered definitely acknowledged who paved the way for the event with all the gratitude they could muster.
"I pray that God will bless all of us to give people flowers while they live. I'm not naming a park or a street or an alley after Ovide Duncantell after he is dead. It was in my heart to make sure this got done so he could see and touch it, so we can give him his flowers while he lives," said Minister Robert Muhammad.
Many kind words were given to Ovide Duncantell throughout the morning. His hard work has not gone unnoticed. The MLK statue is just a visible testament to Duncantell's work and character. A promised fulfilled and a wonderful place of enjoyment for generations to come.