Working in the fields plowing and chopping cotton was one of Mrs. Emma Primas favorite things to do as a youngster on her family farm back in Cold Springs, TX.  The 109-year old now is one of Houston's oldest and most vibrant resident. "I did everything on the farm until I was about 10-years-old.  We didn't start school until we were around that age because we had to work in the fields.  I loved to plow.  I had an old mule name Julie. We would plow and plant together.  Old Julie loved that.  But when it came to 12 o'clock, old Julie wasn't going another step.  That mule could tell time by looking up at the sun.  And she would call out 'wonk, wonk wonk', to let me know it was time to stop.  You could whip those legs all you wanted.  Old Julie wasn't going another step," said Primas.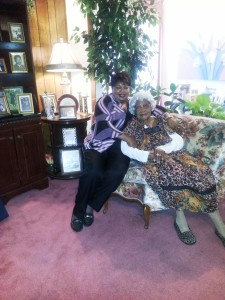 Farm life for Primas was one that taught her about balance in life — hard work, money management and enjoyment.  After a working through the day and helping to care of family business, Primas would go to the farm lake to relax and fish.  "We had a mill on our property for grinding whole corn.  We also raised sugar cane. Everybody had their own and would help each other.  We were a community" Primas said.
                The Japanese would come by and go to all of the neighbors and collect sugarcane and process it.   Each neighbor would have it grind up and cooked.   They would also grind it into sorghum.  It's something like molasses, not as sweet though.  I really liked it, "she said.               
                As a community, Primas detailed how children were brought up during her childhood era.  She said that people in the country helped raised each other's children.  If the children were not behaving that the neighbor would "get after them" and that the discipline didn't stop there.  "Neighbors didn't mind whipping other neighbors' kids. And then they would tell the parents and the parents would sometimes whip them again.  Not today, if you touch somebody's kids, you better have a 45 (caliber) and some money," she said.
                                                                                Finding Jesus 
                Born in 1905, Primas grew up in Cold Springs in east Texas rural area off Texas Highway 156 about 63 miles north of Houston in San Jacinto County.  She had an extraordinarily awakening at age of 10.  Primas told the story of her very first encounter with the Spirit of God and the Mona Bench.  It is a backless long bench made original of stone.  But at Primas' childhood place of worship it was made of wood.   It puts you in the mind of a long wooden backless church pew. 
             "We had to go before what you call a "Mona Bench." [mourning bench, the place to prepare for spiritual conversion and baptism] during revival meetings.  There certain people would pray for us; then touch us in the back.  We would run all over the place.  One night we all got happy.  We found Jesus.  Then, the old people told us that we hadn't found Jesus.  So they made us go back to the 'Mona Bench' again," Primas said.
                "And when we got back there, we couldn't stay there.  We were so happy.  And we had what you called the Holy Ghost.  We were saved," said Primas.  This perfect state of euphoric Primas said had her feeling light as a feather. And that it was like she wanted to fly all the time.  As though she could take up wings and fly.  She said it was like a feeling she had never felt before.  "Lord, I prayed so hard.  They told us how to pray and what I felt, I knew it could have only been the Lord.  And it wasn't man that had me like that.  The 'Mona Bench' was there to save our souls," she said.
                                                                                School and Work
                                As a teenager, Primas enjoyed going to school and working.  After school, she would go to white people homes and wash dishes where she got paid $2.00 to $3.00 for a day's work.   "And baby, we were rich with that money.   That was big money.  You could buy 10 sticks of candy for a nickel.  Oh baby, we got a dollar and we thought we were 'nigger rich' because we could buy anything we wanted.  And we enjoyed it so much," Primas said.  Her favorite subjects in school were reading, arithmetic and geography, and while reminiscing and smiling, she said, "I really liked reading geography,"                                                     
Working Woman
                After she moved to Houston, she married and had one daughter.  She enjoyed Houston but heard that jobs and opportunities were plentiful in California.  She and her family packed-up and moved.  "I got word that things were real good in San Francisco.  I got me a job working at The Sir Francis Drake Hotel where I was a salad girl.  Every other week, I made $40.00.  I told my in-laws that I wanted to do something I never done before.  I wanted to drive a street car.  So I got a job operating a street car until I got tired and wanted to quick," Primas said.
                 Primas didn't quick and continued to work for an additional year based on a promise from management for better jobs.  "We were told if we kept working and give the soldiers a rest; since the war (WWI) was over, that we would get promotions.  They didn't do what they said.  So after that year, I found me some other work," Primas said.
                Finding new employment in northern California was no problem for Primas.  She landed a position as a dietician assistant for a school and within months found herself over cafeteria menus for five schools.   "I made $15.00 dollars a day for each of those schools.   I saved my money, and when I came back to Houston, I was loaded," she said.
                                                                                Taking Care of Business
                Primas has always been a money manager and kept her eyes on the money even when she was married.     "I saved money, paid bills and didn't allow my husband to pay the bills.  You have to stay on top of things.  I had one husband who bought a lady a pair of shoes", she said.
                "I notice that five dollars was missing from the household.  So I went down and wanted to see my husband's check that had been cashed.  They showed it to me.  I told him about it.  He told me 'I didn't work for that check'.  That it was his check.   I then told him that he was my husband and that's my check too and that he didn't pay the bills: that I did," said Primas.
                She further explained that's why men want to pay all of the bills, so they can have full control. "I was strict and I could be, and if they didn't like it, they could keep going.   I wasn't like a lot of women waiting on a man to give me a few nickels.  I worked.  And I knew how to do a whole lot of work.  Work that some people with lots of education couldn't take care of," Primas said.
                                                                                Miracle  
                Sickness has only come Primas way when she was 92-years-old and she almost didn't make it.  She was celebrating her birthday at a local restaurant the day before she fell ill.  She was laughing and talking with family and she started coughing up some dairy food she had consumed.  The following day after church, she came home and had a big bowl of ice cream.
                About 30 minutes later she started experiencing terrible stomach pains.  She said the pains were  just about to cut her into two.  At first, she didn't want to go to the hospital but family and the severe pain had changed her mind.  At the hospital blood was taken numerous times and it was determined she had ptomaine poison. (Ptomaine poison is colloquially referred to as food poisoning; any illness resulting from the consumption of contaminated food, pathogenic bacteria, viruses, or parasites).  
                During Primas' illness she said, "There were two white doctors seeing about me; a young one and an old one.  The young doctor told me that I needed surgery to remove part of my intestines.   The old doctor was trying to talk over him and said it was little to be done for someone my age.  My daughter told him that was not a nice thing to say.  The old white doctor didn't open his mouth after that," Primas said.
                The young doctor continued with Primas' assessment.  He then reached into his medical jacket and pulled out a Bible. "The little young doctor began reading some scriptures, and wanted to know if it was okay if we prayed.  These are the words the young doctor prayed: Father there is nothing I can do.  But through you I can do all things.  He then ordered a bed so that my daughter could stay overnight with me and told me he would operate on me in the morning.  He took the bad part of my intestines out and sewed everything else back together."  
                Primas' granddaughter, Denise Mickey who she now lives with her has been working in the medical field for over 25 years said what that doctor did for her grandmother is unheard of in the medical field.  "Doctors normally don't do what this one did for my grandmother.  He had a Bible, asked to pray and acknowledged that God was working through him.  And that God has all of the power. Now that's what you call amazing," Mickey said.
                On Primas' last post-operative check-up, the young doctor had her daughter to take her down to the old doctor to see how well she had recovered.  "That old doctor was amazed to see how well I was living and looked.  And he's the one that told them I was too old for an operation.  If I had been his patient, he would have not touched me.  He would have sent me somewhere to die," she said.
 Dr. Michael Radcliff of Northwest Memorial Hospital is the young doctor who used the Word of God to save Primas still keeps in contact with her today.  He has attended her 100 Birthday Celebration as well as her 101 and 105 Birthday Celebrations.  "Anytime I am having something special and we invite him and he comes," said Primas.  "I put my trust in God. Nobody can do these things but Him. Certain things that have been in my path, I know that have only come from Him.  My trust and faith are in Him," Primas said.
                                                                                 Politics
                Voting has always been important to Primas. She said back in the day only white men could vote and the white women were mad because they wanted to vote too but couldn't.  "They didn't let the white women vote at first with them because they thought women were unpredictable.  Soon as blacks were allowed to vote, I voted in California.  You just had to be 18 there and nothing else. So when I knew I was moving back to Houston, I bought my poll taxes so I could vote in Houston," Primas said.
                On President Obama, she though in her lifetime, she would never see a black man in America become President of the United States.  She said even though they are giving him a hard time he is sticking in there. "People should get out in vote.  It makes a difference.  If it didn't, they wouldn't be trying to do everything to stop you from voting.  So it just makes sense to vote.  Just don't sit there," she said.
                                                                             Religion
                Primas said many churches today have lost their way.  That ministers and pastors need to instill the Word into their members, but they do not and just focus on the money.   "There are only a few churches now that really help people today.  "Many churches have gone money crazy.  Just greedy!    One wants to out-do the other to see who has the biggest church and the most memberships.  They don't care what the Word says.  They just want that money while they are here."
                                                                                Death
                Primas just recently lost her only daughter who died at 88-years-old.  She says some days she can talk about it and some days she cannot.  But she knows the Lord.                        
                                                                                Living
                At 109-years old, Primas still attends civic and community functions. She enjoys watching the Steve Harvey Talk Show and would also like to meet him.  She says she likes his style. "He takes care of himself.  He is a good dresser like me and plus he talks a lot, just a no nonsense man, and I like that."
sheilarayreed@houstonsun.com