Houston Independent School District officials held a meeting with community leaders to explain about the newest edition that will come to the Third Ward community, a specialized Energy school that is slated to open in 2017.
This new school will be built at the old Lockhart Elementary sight at Southmore and Tierwester. Right now under 400 students who are already in the program for the STEM school are housed at the old Dodson Elementary.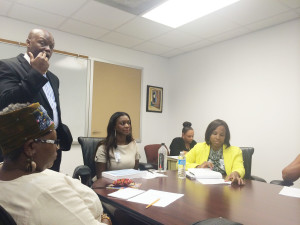 "The target is to build a workforce from within the city," said an HISD official.
STEM and Engineering are the specialties that will be offered at this new school that was approved of in February of 2013.
Unlike many of the other specialty schools in HISD, this particular school does not have stipulations to get in besides the regular criteria for graduation. Since HISD is an open enrollment district students will be selected by a lottery that pulls random names that have applied to attend the particular school as well as those who are zoned.
This posed a concern for community leaders such as Deloyd Parker of Shape Community Centers and Rev. D.Z. Cofield of Good Hope about the future of Jack Yates Senior High.
"Why build a brand new school down the street from Yates at the same time you all are supposed to build on Yates," said Parker?
HISD officials continuously reassured the community members that the school will not endanger Yates for closure by taking its students.
The new Energy school is not a part of the 2012 HISD Bond that has left a bad taste in the Third Ward community as many schools have been repurposed or shut down such as Jones, Ryan Middle School which is not the Baylor College of Medicine and Dodson Elementary which was closed.
School Improvement Officer Shonda Huery Hardman assured those present repeatedly that she would work diligently to repair communication between the school district and the community as well as provide the best educational service to the children in the area as she too is a product of Third Ward.
STEM programs are the biggest wave in educational uplift in Houston for the past couple of years replacing many of the neighborhood schools.