Not so "gay" for Michael Sam
This Labor Day weekend was not a merry time for the NFL's first openly gay player Michael Sam as he landed on the 2014 NFL roster cuts. The seventh-draft pick was release by the St. Louis Rams after he lost out to rookie Ethan Westbrook who landed a spot on the Rams' final roster spot.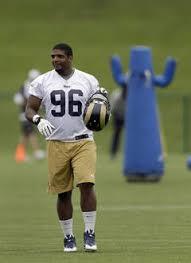 There was speculation that Sam would land on the Rams 10-player practice squad. That didn't happen either. Sam is now a free agent. I wonder who he's kissing now.

JJ Watt #99, a $100 Million-Dollar Man
What makes Houston Texans JJ Watt so special? Let me tell you. He works hard, he has a great attitude and people like him. Turn on your TV set and you will most likely catch him in a commercial or two.
You heard the saying attitude is everything well that might just be true. Last season when the Texans had the worst season record in the league with 12 loses and 4 wins, some of its premier players lost their cool on the field.
Even though JJ Watt didn't like how his team was playing, he kept his cool and didn't mumble or grumble. Even during a game against the Seattle Seahawks last year when Watts injured his nose, he didn't stop or complain he continued to play with a bloody nose. Now that's what you call leadership and tenacity.
During this year's training camp, he was there setting an example for all. Once again, working hard and showing his gratitude to the fans.
Well it has all paid off, the two-time first-team All Pro and 2012 NFL Defensive Player of the Year is now what we call a very wealthy man.
News broke this Labor Day weekend that Watt has signed a lucrative extension with the Texas for a $100 Million Dollars. The deal guarantees Watts $51.8 Million and $16.5 Million annually for six years.
Why fire Bo now?
Who would have ever thought after the MLB 2014 Civil Rights Game at Minute Maid Park this year that Houston Astros' Manager Bo Porter would get his walking papers three months later. Well that is exactly what happened.
General Manager Jeff Luhnow fired Porter who has served almost two seasons as manager of the Astros, and gave his reasons for doing so during a press conference on Labor Day of all days.
"This decision was not made because of our current level of competitiveness in the Major Leagues. I recognize that our win-loss record is largely a product of an organizational strategy for which I am responsible," said Luhnow. "Rather, I made this decision because I believe we need a new direction in our clubhouse."
Luhnow has been described as having a strong personality and Porter's personality has been described as fiery and emotional. Only way this combination can mix well is if there is a consistent 90% win and 10% lost record. That is not the case with the Astros. The team currently sits at a 59 wins and 79 losses.
But why fire Bo now when the team went 15-14 last month. Maybe it's that Luhnow is the boss and the two just don't like each other.
Bench Coach Dave Trembley was also fired as well mostly likely for good measure.
sheilarayreed@houstonsun.com