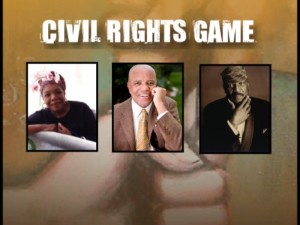 Less than a week before she died, legendary poet Dr. Maya Angelou canceled an appearance at The 2014 Major League Baseball (MLB) Civil Rights game which will be played at Minute Maid Park on Friday, May 30th between the Houston Astros and the Baltimore Orioles.
Angelo along with NFL Hall of Famer Jim Brown and Motown founder and music pioneer Berry Gordy are this year's Beacon of Life 2014 Honorees. Brown and Gordy will received their awards at the MLB Beacon Awards Luncheon and the Baseball Civil Rights Movement Roundtable Luncheon hosted by Robin Roberts of Good Morning America.
The Astros office said they do plan to still honor the legendary poet in her passing but have not release the details at this time.
The Civil Rights game and its Beacon of Life Award was developed by the MLB in 2007 to pay tribute to those who fought on and off the field for equal rights.
This is the eighth year of the Civil Rights game and the first where the teams will wear the Negro League uniforms. The Astros will wear the uniforms of the Houston Eagles which played for two years (1949-1950) and was the only team from Texas in Negro League History.The Baltimore Orioles will wear the uniforms of the Baltimore Elite Giants which played from 1938 through 1950.
The first 15,000 fans to enter Minute Maid Park will receive a special commemorative Civil Rights Cap.
Chart-topping Aloe Blacc will perform "The Man" before the first pitch, Actress and singer, Jadagrace will sing the National Anthem and recording artist, Jeffery Osborne will treat fans to a special rendition of "America the Beautiful" during the 7th inning stretch.
After the game, the Astros will host a special fireworks show that will have a Motown theme.
sheilarayreed@houstonsun.com