Houston Sun News Service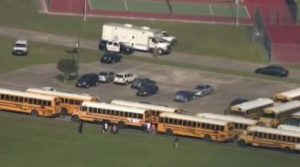 The 40-year-old neighboring town 30 miles South of Houston started the day with a tragic domestic terrorist attack allegedly by a 17-year old student at his Santa Fe High School of about 1,400 students. The high school serves a population of about 12,200 (US 2010 Census) residents in the rural town of Santa Fe, (Holy Faith in Spanish) in Galveston County.  Police sources have stated that a young man has been placed in custody and nine people are dead while others have been taken to the League City Hospital and the UT Medical Center in Galveston.
Students report that there was a shooting threat in February at the high school and that they were in lockdown mode for two hours. A freshman student reported that he heard two bombs and the gunshots and a weeping 10th graders speaking through tears said that her friend was shot in the leg.
Students were evacuated to the Alamo Gymnasium at 13360 off Highway TX 6.