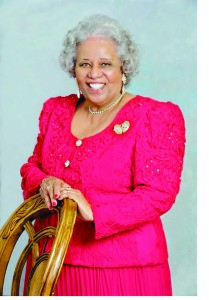 Dorris Ellis
The Houston Sun
Audrey Hoffman Lawson died of natural causes on December 12 in her home surrounded by her family.  She was age 83.  She was born March 20, 1932 in St. Louis, Missouri, one of nine children of John Henry and Alma Hoffman. She married William "Bill" Lawson and they remained united for 61 years.   Mrs. Audrey Hoffman Lawson held many titles. She was First Lady Emeritus of Wheeler Avenue Baptist Church for 40 years. She was one of the founders of WABC along with her husband, Rev. Dr. William A. "Bill" Lawson, Pastor Emeritus of Wheeler Avenue Baptist Church in 1962. She is the mother of Melanie, Cheryl, Eric, and Roxanne Lawson. She was "Maka" to granddaughters Robyn and Raven. And she was the founder of the WALIPP-TSU Preparatory Academy.
She attended Tennessee State University in Nashville, Tennessee and received a B. A. in Social Work. While she was in her Social Work studies at TSU, she began a long distance correspondence with a TSU alumnus, now a graduate student in theological seminary, William "Bill" Lawson, who lived in Kansas City. That correspondence would endure for over two years, involve over 600 letters, and result in their marriage in January of 1954. The Lawson Letters, three volumes, now archived by the Houston City Library, are a major feature in Audrey's biography. She began her career at the St. Louis YMCA. When she married Bill and the two of them moved to Houston, Texas, she became a Social Worker at what was then called The Negro Child Center, part of the DePelchin Children's Center. She worked at what was then called Vocational Guidance Center, later expanded to Career and Recovery Resources of Houston.
Shortly before the birth of their youngest child, Roxanne, the two of them established Wheeler Avenue Baptist Church. Audrey was the reason for the nature of the ministry of that church. Community services and ministries with children were almost automatic. Boy Scout and Girl Scout troops were born virtually with the church. Normally Pre-school began at three years old. But Audrey conceived of school beginning almost at birth, which would require toilet training. And she set the pattern for such birth-to three-years care, and created the Wheeler Avenue Infant School, which is now WACA, Wheeler Avenue Children's Academy.
In 1996 the Houston community celebrated the 50th anniversary of the entry into the ministry of Bill Lawson. As a gift they gave him a fully-funded 501c3 non-profit, to use in any way he saw fit. Audrey saw an opportunity to use it to establish a Charter Middle School for boys, and created the WALIPP Preparatory Academy for Boys, later to be identified with Texas Southern University, as WALIPP-TSU Preparatory Academy, and finally to be taken over by their daughter Cheryl, promoted to a State Charter, which required a parallel girls' middle school. It currently is comprised of both boys' and girls' schools. Audrey had another passion that leaves a major legacy for the City of Houston: black theatre. The Ensemble Theatre was the creation of a brilliant writer-director, George Hawkins. But it was struggling to survive, and he was mortally ill. Audrey loved George, and knew the Ensemble was an extremely valuable institution.
She commandeered two fellow board members and an aged but passionate lover of theater. Under her leadership, the seemingly insurmountable debts were paid off. The huge, ugly building was purchased and remodeled into a theater. A small staff was hired, and the Ensemble became an icon of Houston's Midtown. When METRO opened its light rail along Main Street in 2004, the stop between Alabama and Holman Streets was named Ensemble-HCC. Audrey is now Chair Emeritus of the Board of Directors of the Ensemble, but all who know the history of this highly-respected arts institution call her the Mother of the Ensemble Theater. Houston would not be what she is today without the multiple contributions of Audrey Hoffman Lawson.
In June 2015, the Houston League of Business and Professional Women, Inc. under the anniversary leadership of Dorris Ellis Robinson, Juanita Harang and President Patricia Sullivan, presented Audrey Lawson with its most prestigious award, the Sojourner Truth Award. During the Houston Sun's 30th anniversary, the paper presented the Lawsons with its Infinity Award.
Both the wake and funeral will be held at Houston's historic Wheeler Avenue Baptist Church, 3826 Wheeler Ave. Her husband served there as pastor for more than 40 years. The wake is scheduled from 6-9 p.m. on Thursday. A viewing will be on Friday 9-11 a.m., and will be immediately followed by the funeral, according to Melanie Lawson, Lawson's daughter. The services will also be streamed on WABC.org.