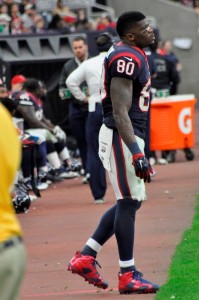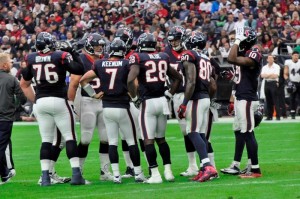 The now (8-7) Texans led by quarterback Case Keenum, shut the Baltimore Ravens down game day Sunday, December 21, beating them 25 to 13 at NRG Stadium with impressive performances from kicker Randy Bullock, running back Arian Foster, JJ Watt and the defense, and a history making day for wide receiver Andre Johnson.
After being summons by the Texans earlier this week straight off of the St. Louis Practice Squad, Keenum was eager and performed well against  Ravens seasoned quarterback Joe Flacco.   Keenum threw for 185 yards with one interception.   Flacco threw for 195 yards with three interceptions and two touchdowns
Bullock made up for missed touchdown opportunities by the Texans.  He put up 18 points of field goals from the 20, 25, 30, 33, 35 and 39.  The six for six field goals were a franchise-record.
The Texans only touchdown in the game came by way of Foster.  It was a brilliant play.  With only seconds left in the half, Foster ran to the right, drew in the Ravens' defense and threw a five-yard halfback pass to  tight end, C.J. Fiedorowicz in the end zone for the score. Foster had 95 yards rushing including a 43 yard run.
The leading candidate for NFL Defensive Player of the Year, Number 99, Watt did his thing again as he does on every game day.  Watt led the Texans with eight tackles.  Watt tackled Flacco to stop a two-point conversion attempt after a touchdown in the fourth quarter.  The fans went wild after the play, when Watt gave his signature finger "no-no" wave.
Texans fans cheered when Johnson reached the groundbreaking mark of 1,000 receptions.  He went in today' game with 996 receptions.  He had six receptions for 65 yards.  He is only the 10th player in NFL history to make this achievement of 1000 or more receptions.
"It puts you in an elite group. I never thought I would be in this situation," said Johnson after the game.  "You can say everything you want when you first come in the league about how good you want to be but you have to go out there and play and put the numbers up and things like that."
Johnson continued, "It was just so special to do it here because we have fans that have been riding with us for a long time. I've been here to experience a lot of things that have went on with this organization.  It was just fun to do it here."
Today's win keeps the Texans playoff hopes alive.  There are several things that need to happen in Week 16 for this to happen.  The Cleveland Browns must beat the Indianapolis Colts, the Kansas City Chiefs must beat the San Diego Chargers.
And the Texans must beat the Jacksonville Jaguars who they will host next week in the season's final game at NRG Stadium.
This is all possible,  because who will have thought that Keenum would be the starting quarterback for the Texans after he was release by them during the practice squad.
sheilarayreed@houstonsun.com