On Tuesday, December 2, 2014, Houston was blessed to have one of Hip Hop's biggest MCs grace the Warehouse Live stage for his "Nobody's Smiling Tour".  For this ambitious photojournalist, covering a Common concert was a dream come true.  I could not believe that after the show publicist Sarni Jaye would personally escort me backstage for an exclusive interview with the man himself.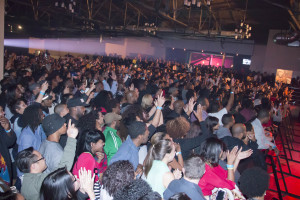 On this brisk Tuesday night, concert lines wrapped around the building while eager Common fans waited to get inside. I could feel my heart pumping like the rhythm of the bass thumping as we made our way into the venue.  So many different faces and styles united with one thing in "common"—to witness one of Hip Hop's most passionate MCs rock the microphone.  
New Orleans native, Jay Electronica opened the show with an energetic lyrical performance. For a second, I forgot we were photographers because the music resonated to our bones. It's funny to see a fellow photographer snapping pictures and rapping along knowing each and every verse.   
It did not take long for the man of the hour to hit the stage. Lights dimmed and audience members looked like mesmerized children staring at greatness. I have covered concert performances before, but this show was different.  Thank goodness for a fast shutter speed and quick eyes because Common was rarely in the same spot for long.
He rocked the stage with the same passion as if it were his first performance.  And he was working on his first record deal. Not only did Common deliver his Hip Hop classics like "Testify" and "The Food," he surprised the audience with a hot exclusive freestyle highlighting the city of Houston.
Imagine a room full of fans cheering on the popular kid rapping in the cafeteria cypher. That's the feeling you receive while listening to Common rhyme about his love for Pappadeaux Seafood Restaurant, The Breakfast Klub, and various other popular Houston-based landmarks.  
Common displays an impeccable stage presence that resonates with Hip Hop heads across all borders. Looking across the diverse audience there was no question Common's music is respected by all Hip Hop lovers. I was just as surprised as everyone else by the surprise performance from Scarface and Willie D of the Geto Boys of their classic hit "Mind Playing Tricks on Me." Common wouldn't let the show be complete without bringing one of his many adoring fans onstage. Not only did he serenade the adoring fan with dope lyrics, he made sure it would be a night she'd never forget.
I can appreciate how Common successfully uses his platform to let his fans know that they can achieve their dreams. It was inspiring just hearing him reminisce on his beginnings in the industry. By opening up about his childhood and his dreams of wanting to be somebody, this made for a more deep and intimate show.
After the performance, I sat down with Common to ask him a few questions.  Although I wanted to ask him, "Can I borrow a dollar?" I opted to focus on his career and longevity because he's accomplished what so many only aspire to achieve.
With a successful career spanning more than 20 years, how have you balanced working in the entertainment industry while still following your passion?
"I believe you start first with doing the stuff you love: creating music or art that you feel like is quality… Some of your business aspects don't have to be [just] you; you can team up with people who are more business savvy. You always wanna know what's going on with your business, but someone else may be a better business person than you may be. It starts with creating a special art."
When asked if there is any positivity that can be salvaged from the incident in Ferguson, Common did not feel entitled to talk specifically about Mike Brown and his family. He wanted to be respectful to the family. He did share this.
"I do believe out of any situation that can be negative or painful, you can find something that will cause you to grow. You can grow from any of those struggles. Right now it's making the country and people across America really pay attention to how black life is not valued in America as much as it should be. It's making people say, 'Man, we don't want this to happen anymore to ourselves or our children.' "
How have you maintained consistency in an industry where others sometimes reach their breaking point?
"You always wanna learn. Be humble enough to know you gotta grow and get better. Have the desire to wanna get better and be like, 'I can be great at this.' You can still appreciate some achievements or things that have come and been blessings, and be like, 'Man I just did a dope song.' But that's not the end of it; you don't just ride off that.  You can't live off the past, you just appreciate where you are and think about getting better. To me, living life and gathering information is a key to getting better 'cause you might get inspired by other music, you might get inspired by a film, you might get inspired by photography, or you might get inspired by poetry. There's different things that you always want to be learning."