It was a fine day at the Texans NRG Stadium, roof open for the second time this season and the weather above was picture perfect and the field below was picture perfect as quarterback Ryan Fitzpatrick threw a franchise-record six touchdowns sending the Tennessee Titans back home with a (2-10) record.
All Photos by C. Allen Media
Fitzpatrick's performance proved that his two-game benching was a time of deep reflection, and if chance arose for him to be at the helm again, he would show them, and he did.  This time around he was accurate, decisive and confident.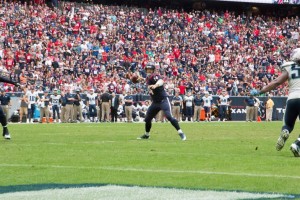 He used his playing ground wisely and threw 9 receptions for 238 yards.  Two of Fitzpatrick's touchdown passes went into the hands of wide receiver DeAndre Hopkins.  This was also a fine day for Hopkins as he racked up a career high of 238 yards.
The scoring action, actually started early with a Fitzpatrick eight-yard hit to tightend Ryan Griffin on the opening drive.  Running back Arian Foster, back in play after a groin injury, showed the crowd that all is well, when he went in for a seven-yard touchdown pass, Texans leading 14-0.
  The Texans' lead expanded with a 37-yard field goal by kicker Randy Bullock with 3:25 remaining on the clock, 17-0.
Then with only 38 seconds left before the half-time break, Fitzpatrick hit Hopkins with that first 58-yard scoring play to put Houston up 24-0.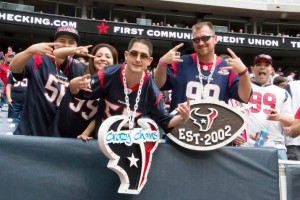 Early in the third quarter, Titans quarterback Zach Mettenberger connected with wider receiver, Kendall Wright to put the Titans on the board, 24-7.
 That would be Mattenberger's last touchdown reception of the game.  A few plays later, he was taken down by a JJ Watt tackle.  Back-up Jake Locker had to be called-in to lead the Titans.  
The Titans next score of the game came when cornerback Jason McCourty stole the ball from Texans wide receiver, Andre Johnson and ran for a 62-yard touchdown, narrowing the lead 24-14.
            The scoreboard widen again, late in the third quarter 31-14, when Hopkins made his second touchdown.   Johnson made up from the earlier striped ball, and reached up for a Fitzpatrick pass in the end zone, widening the lead 38-14.
            In the fourth quarter, Watt found himself on the receiving end of a 1-yard touchdown, his fifth of the season, making the score, 45-14. 
 Titans' wide receiver, Nat Washington managed to catch a 25-yard reception touchdown from Locker late in the fourth.    The final score 45-21 with a Texans' win.
In the post-game press conference, Fitzpatrick said, "I didn't now know if I'd ever have a chance to play again.  It's an eye-opener for me not to take it for granted."
Fitzpatrick started for nine games, than was bench for two games for Ryan Mallett, who is out for the season, after he suffered a chest injury last week.
With all eyes around the football nation on Watt's outstanding season and his five touchdowns, Watt humbly stated, "I don't think, I could have imagined scoring one touchdown anywhere.  Five right now is very cool," he said.
The Texans are still in the playoff contention at (6-6), and have a chance to be the wildcard in their division.  They will play the (2-10) Jacksonville Jaguars on December 7, at Ever Bank Field in Jacksonville.
sheilarayreed@houstonsun.com