Week 2 for the Houston Texans brought them a victory on the road beating the Oakland Raiders, 30-14. This week the offense got its time to shine along with the unstoppable defensive end JJ Watt. Watt delivered the first touchdown of the game. Yes, a JJ Watt tight end touchdown.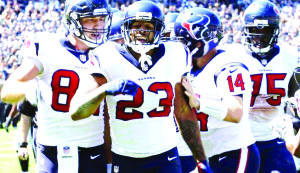 On the first offensive drive, running back Arian Foster had five runs. On the fifth run, Foster took the ball to the goal line. On the next play, Watt lined-up as a tight end and was wide open, all by himself in the corner of the end zone. Quarterback Ryan Fitzpatrick aimed in and connected with Watt for the touchdown catch. Lesson learned, any team coming up against the Texans should always keep its eyes on Watt.
The next score came late in the quarter with an Arian Foster run for a touchdown. The extra point put the Texans up 14-0. On the next drive, Raiders' Quarterback, Derek Carr threw an interception to Texans cornerback Kareem Jackson. The Texans put up three for a field goal. The Texans had a half-time lead 17-0.
The third quarter brought the Texas another score after the Raiders fumbled its first possession away. Fitzpatrick connected with wide receiver DeAndre Hopkins for a 12-yard touchdown pass to go up 24-0.
Houston scored again in the final minutes of the third quarter with a 39-yard field goal by placekicker Randy Bullock. The quarter ended with a Texans lead, 27-0.
The fourth quarter gave way to the Raiders first score of the game when running back, Darren McFadden ran in from the goal line following a pass interference call on the Texans' cornerback A. J. Bouye. The Raiders were on the board with the Texans leading 27-7.
Nine minutes into the fourth, Houston scored again with a field goal giving them a 30-7 lead. With just a little over 10-seconds to play, the Raiders put up seven on the board. The final score Texans 30 and Oakland 7.
Fitzpatrick finished with 14 for 19 passing for 139 yards and two touchdowns. Foster had 138 yards and a touchdown on 28 carriers and Randy Bullock made fields goals from 33, 39 and 46 yards. This was a good day for the Texans with a win and no turnovers.
The 2-0 Texans will meet the 0-2 Giants at MetLife Stadium on Sunday, September 21 at 12 Noon. The game will be broadcast on CBS.
sheilarayreed@houstonsun.com