Houston Texans fans rolled out of NRG Stadium with victorious faces celebrating the Texans 17-6 win over Washington for the game day opener.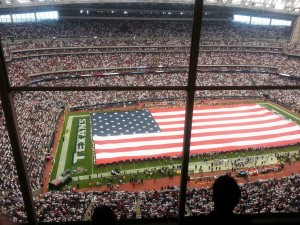 Defensive end JJ Watt recently made headlines with his record breaking contract extension. Today's performance proved why he is worth every buck of his $100 million deal.  Watt racked three tackles, a sack, a blocked extra point, a fumble recovery and stopped a play with the palm of his hand with his signature swatt pass.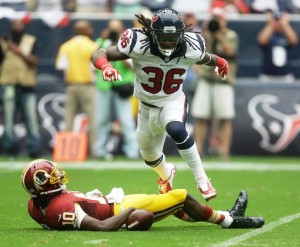 The scoring action started in the second quarter when Washington fullback Darrel Young rushed up the middle for a touchdown. No additional point accompanied the play as JJ Watt went up and blocked the extra point.  It wasn't long after Washington put 6-points on the board that the Texans went in to score.
Quarterback Ryan Fitzgerald connected with De Andre' Hopkins for a 76-yard touchdown. The Texans led 7-6.   On the next drive, Texans running back Alfred Blue blocked a punt and returned it for a touchdown putting the Texans up 14-6 at halftime.
It was a not a good day for Washington quarterback Robert Griffin, III (RG3).  The Texans defense wore him out.  D.J. Swearinger joined JJ Watt to let RG3 know this was not Waco, TX where the Baylor Bears just unveiled a statue of their former star player.  RG3 went down with three sacks from the mighty Texans' defense.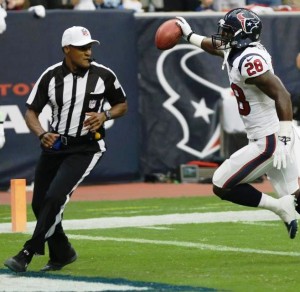 In the third quarter, JJ Watt did what he does best, seized opportunity.  Watt recovered a fumble after a spoiled attempt by RG3 to Alfred Morris on the Texans' seven-yard line.
During the next drive, Swearinger took down tight end (TE) Niles Paul and caused a fumble after a 48-yard pass from RG3.  Texans safety Kendrick Lewis recovered the ball at the 9-yard line.
The Texans didn't put up any scores with the two second-half fumbles. They punted after the first one and the other was lost by Arian Foster after a long Texans' drive.
The fourth quarter sealed the game for the Texans with a 42-yard field goal by kicker Randy Bullock.
Fitzpatrick had 206 yards passing. Foster ran for 103 yards and Andre Johnson had 93 yards receiving.
First-round number-one draft pick Jadeveon Clowney left late in the second quarter because of a knee injury.  Late reports have indicated that Clowney has a lateral torn meniscus tear.  Clowney is set to meet with doctors on the prognosis of his right knee.
Coach Bill O'Brien said they will know better as the week goes on about Clowney's injury.  "I am no sure about the status, but I will say right now that think it's going to be ok.  He may miss some time.  He may not," said O'Brien.
Game-day at NRG Stadium had a record attendance of 71,770, the second largest crowd in game history and the largest in game opening.
sheilarayreed@houstonsun.com