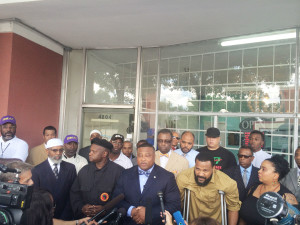 Armed robbers held up Mr. Indian Hair store on Almeda, Friday, August 8, 2014 leaving owner, Kehlin Farooq, with a gunshot wound to the thigh, an extremely startled sister and customer.
For the second time this year, Farooq has been hit for his high end hair extension products. His popular business is located on the Almeda Corridor and has become a target along with other businesses due to the high demand for hair extensions within the African American community and the big bucks it draws in.
Although no merchandise was taken, Farooq was injured with a bullet wound to the thigh and according to Tharetha Black, a victim in the robbery the whole entire ordeal was plain out scary.
"These two dummies came in with masks and bandanas on their face. She say hit the floor and she pushed me down," said Black. "All I remember them saying is get to the back and I wasn't screaming but I was real nervous and panicky. I crawled to the back office and the next thing I hear is Brother Kehlin running out and I don't know what he saw but I heard a pop, but I just stayed on the floor. He didn't know he had been shot, he just asked where is his sister?"
Every one survived, shaken up of course but not discouraged as activist Quanell X, Kofi Taharka President of the National Black United Front, Krystal Muhammad, Leader of the New Black Panther Party Houston, Minister Robert Muhammad and disgruntled Black business owners stood in support of Farooq at a press conference outside his store on the following Monday, August 11, 2014.
"We have come here collectively to say that what took place against this brother and his sister and the people of this community, his customers on last week will not be tolerated," said Quanell X. "We are fed up and sick and tired of letting our own brothers and sisters who look like us to prey on us to shoot, maim, harm and sometimes kill valued members of our community."
Although Farooq has been hit before this is the first time it was an armed robbery attempt. Other businesses like Brashae's Beauty Supply was hit too the week before Mr. Indian Hair. Brashae's Hair Supply is the one and only African American full service beauty supply in Houston that is an African American owned business, said Farooq.
The target which is hair extensions are a hot commodity. Ranging anywhere from $150- $300 for a bundle of hair, these extensions are lucrative business. Thieves steal these products with the desire to sell them for a discounted price on the black market. Yet Farooq and colleagues in the business are suspicious that African American hair extension stores are under massive attack but Asian owned hair extension stores haven't met the same rate of robbery attempts.
"I never thought I would see the day where brothers would break in and not even want the cash register," said Quanell X. "I mean not even look at it but go straight for the hair. That's a shock to me."
As shocked as he maybe he stood strong as he delivered his address to the youngsters who made the robbery attempt. A warning was firmly set for them and for anyone else who has ill plans for the Third Ward community.
"This man isn't just someone who has not made a positive investment into this community and he has worked night and day to help many of us in this area and now our young brothers whom we love will come into this man's business and put a gun to his sisters head and shoot him in the leg," said Quanell X. "We want to say to these young brothers, we love you but this time you shot the wrong brother, this time your robbed the wrong institution and we want you to know you shouldn't be robbing any place but like hell we will let you shoot down valued members of our community, we are prepared by any means necessary to hunt you down wherever you are, we are prepared to protect his life and the lives of our community members by any means necessary. We are saying to these young brothers to lay down your guns."
The community stood behind their leaders as Farooq leaned over on crutches in the blaring heat on the Almeda Corridor, once a mecca for African American businesses. Farooq said he will continue to run his business with Quanell X adding if another robber comes in they might not be so lucky next time.