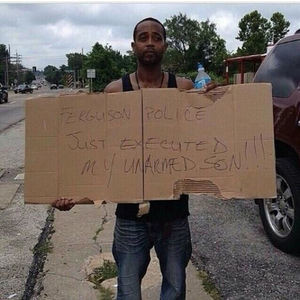 Contribution from the St. Louis American
Tensions were high in North County Saturday afternoon after reports of the shooting death of an unarmed teen in Ferguson at the hands of police.
Hundreds gathered outside the Canfield Green Apartments well into the night to protest the death of the young man who was later identified as Michael Brown.
He was reportedly scheduled to begin college classes Monday.
The outrage initially spread through social media, prompted by an image of a man holding up a cardboard sign that read "Ferguson police just executed my unarmed son!!!"
The image was shared through Facebook, Twitter and Instagram – accompanied by several reports by citizens who were on the scene.
A spokesman for the St. Louis County Police Department confirmed to the Associated Press that it was a Ferguson police officer who shot the man, but did not identify the officer and did not immediately give a reason for the shooting.
The crowd eventually dispersed and police scheduled a news conference for Sunday morning.
"We are hurt to hear that yet another teenaged boy has been slaughtered by law enforcement especially in light of the recent death of Eric Garner in New York who was killed for selling cigarettes," St. Louis County NAACP President Esther Haywood said in a statement. "We plan to do everything within our power to ensure that the Ferguson Police Department as well as the St. Louis County Police Department releases all details pertinent to the shooting."
Ferguson Police Chief Tom Jackson told KMOV.com that St. Louis County Police have taken over the investigation and the officer involved in the shooting has been put on paid administrative leave.