Thanks to the Houston Sun Newspaper, I was on the scene for the 2014 Essence Festival in New Orleans. This year, the Essence Festival celebrated its 20th Anniversary and kicked off the special occasion with Prince as its signature performance. The weather wasn't the only thing scorching this 4th of July weekend as celebrities and event goers filled the New Orleans Convention Center.
I couldn't believe how many brands and sponsors were a part of the Essence Expo. It was a photographer's dream job. There were so many good photo opportunities. Imagine walking in the convention center and your favorite celebrities are on stages spread across one giant room. As a first time attendee of The Essence Festival, I have to admit I was overwhelmed. Brands like Walmart, McDonald's and Verizon all hosted stages with celebrities interacting with audiences throughout the whole day.
If you had a chance to visit the Coca Cola stage you'd thought you walked on the set of a new music video. In addition to the music pumping DJ, you had Tyrese discussing how his 30 second commercial with Coca Cola changed his entire life. Tyrese said that his music teacher canceled their music class to personally take him to the Coca Cola audition. He went on to say that the audition led to his first commercial which ultimately was the beginning of his career. Since then he has starred in box office Blockbuster films and has had a very successful music career, and influences millions of people through his social media platforms.
If this didn't inspire you, you could easily walk over to the Walmart Stage and hear artists like singer Trey Songz or singer Ledisi discussing how their dreams became reality.
The Essence Festival was literally like walking inside of an issue of Essence. I attended the festival as a photojournalist but if I could walk around with a giant tape recorder I would have. The first account information shared by the guests was invaluable.
In addition to the extraordinary shared dialog, the Essence Festival provided plenty of cuisines and giveaways for all taste buds and ages. My choice of vendor food came from a booth named The Taste of "Nawlings." I can still taste the New Orleans flavored Catfish and Jambalaya the city has to offer.
Not to be left out, this year the Marriott International partnered with the Essence Festival to host a few of its own events. I was really excited to provide photography for
celebrities like Angela Simmons and Boris Kodjoe. ESSENCE Love & Relationships Editors Charli Penn & Sixx King made sure audience members' questions were getting answered throughout the 'Totally Tripping" hotel event. It was exciting to see television actor,Laz Alonso surprise guests of the hotel by taking selfies and giving away tickets to the Prince concert, courtesy of Marriott.
Marriott International also invited Laz Alonso along with actress Angela Simmons, movie actor Boris Kodjoe and his wife, actress Nicole Ari Parker to be panelist for their 'Totally Tripping" event.
It was refreshing to hear Nicole and Boris Kodjoe say traveling is a way they keep their relationship fresh. The audience was impressed when Nicole admitted that she recently surprised her husband Boris Kodjoe with an impromptu trip to Bora Bora.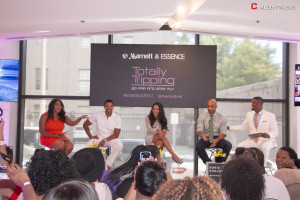 Simmons chimed in and said that when she travels, she likes to choose hotels with great ocean views. Alonso said that the best part of traveling for him is having nice pillows and beds. They all agreed that each of these amenities make for a peaceful and successful getaway.
Another high point of my 2014 Essence experience was meeting the magazine's Love & Relationships editors, Charli Penn & Sixx King who were very friendly and engaging. They played moderators while audience members listened with excitement and intrigue.
Not only were we treated to photo opportunities with the panelist, we were given free reign to ask questions related to the discussion. Besides great conversation, the group selfies seem to be a big hit with everyone. Sixx King made sure the entire room took one giant selfie with the panelist before closing out the event.
If you thought the daytime events of Essence were it, then you were in for a bigger treat for the night-time performances. I am now a newly converted fan of Janelle Monae. While taking pictures of her stage performance, you couldn't help but feel her high energy.
It was also an honor to photograph music legends like Mary J Blige and Jill Scott on the Essence Mainstage. The super lounges which featured artists like The Roots and Ledisi allowed us to experience performances in a more intimate settings.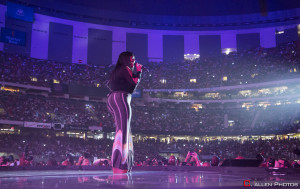 Other performers who had the crowd rocking and on its feet were Erykah Badu, headliners Prince and Charlie Wilson with Lionel Richie closing out the 2014 Essence Festival with their popular hits.
I recommend getting started early on your 2015 Essence Festival plans. It will be time well spent.
#callenphotos
#callenmedia
#christoperhallen@houstonsun.com