There are many stylish casino designed hotels and resorts that line the 4.2 miles of the Las Vegas Strip. Glitz, glamor and eye-catching attractions embellish one of the most well-known skylines worldwide. However, there is one hotel that is one of a kind. The Venetian Resort Hotel Casino's exquisite architecture sets this landmark apart from the rest.
You can actually hear the people admiring the hotel's beautiful Renaissance artwork on the high arch ceilings with bursts of oohing and ahhing during check-in and as they stroll through the hotel's palatial promenade.
The Venetian provides all of the guestroom amenities that one expects from a first class hotel and much more. When I walked into my suite, it was much grander than I had imagined. I was greeted by 650 square feet of pure luxury and marble flooring. My bed chamber included a plush king-sized pillow-top bed with a relaxing lounger at the foot and a flat screen stylishly mounted on the wall surrounded by spectacular art work.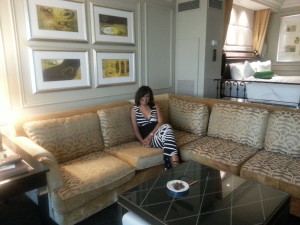 Just a few feet away was the sunken living area with its own flat screen and a comfortable full sized l-shaped sofa-sleeper and an office area that offered all the technological amenities to conduct business as well as a dining area and an oversized bay window with remote control handcrafted curtains and tailored-made pleated drapes that overlooked the lively Vegas Strip.
The bath area reflected the spaciousness of the bed chamber and sunken living quarter. It provided a 130-square ft. sanctuary with a Roman tub and a separate glass enclosed shower. The sink was a double sided vanity and a 17 inch flat-screen hung inside as well, but I can tell there was no need for me to watch television because the ambiance was so plush there and just pure relaxation. The quality body wash, shampoo/conditioner and other bath amenities kept my skin supple and my hair soft and shiny. I really didn't want to leave my suite. But The Venetian has so much more to see and experience.
The Venetian offers over 30 restaurants from fine dining to casual dining. I chose to enjoy my meals at the Grand Lux Café which is located on the casino level, which is more on the casual dining side. I really enjoyed the atmosphere plus the wide selection of food. My favorite was pasta with ground beef and with pieces of slow roasted short rib, smoked bacon, sautéed mushrooms, a touch of garlic and a mildly spicy marinade; and of course a Greek salad- Yummy. By-the-way the Grand Lux offers breakfast, lunch and dinner.
One of the best ways to shop is just to sometimes browse; known as window shopping. The Grand Canal Shoppes at The Venetian will give you an eyeful of beautiful things even if you don't make a purchase you can add to your wish-list for later. The Grand Canal Shoppes has more than a 160 signature stores and for us shoe-nistas; Tory Burch, Jimmy Choo, Christian Louboutin are among the favorites. And the ever-popular Michael Kors right in sight has a signature shop with a host of handbags that range from the high-end to the moderate price point. And in the midst of it all is The Venetian famous gondola ride, this is a must, even though I didn't partake but will on my next Vegas outing.
One huge attraction that I didn't missed out on was the Motown Human Nature Show exclusively at The Venetian. This stage-show will dazzle you for days. Okay, picture this, four talented blue-eyed Aussies, yes I mean the kind from Australia. They have the Motown sound down complete with all of the steps, moves and oh-yeah those voices, with blended perfect harmony.

These guys; Andrew Tierney, Phil Burton, Toby Allen and Mike Tierney brought all of Motown's favorite songs, showmanship and impeccable sleek polished image packed in a 2 ½, hour-show and entertained with their melodic and energetic renditions of "My Girl", "Tears of a Cloud", "Stop in the Name of Love", "Uptight-Everything is Alright", "I Will Be There", "Ain't Too Proud to Beg" and "My Girl" and "Get Ready" among other Motown top picks. These musical selections and Human Nature's intoxicating performance had the crowd rocking and standing to its feet throughout the performance.
The group voted best singers by the Las Vegas Review Journal and Trip Advisor's #1 show in Las Vegas, Human Nature: The Motown Show is one not to be missed. Ticket prices range from $118 to $74.00 and the performance is held at The Venetian Sands Show Room.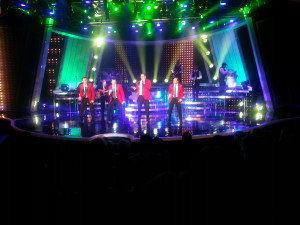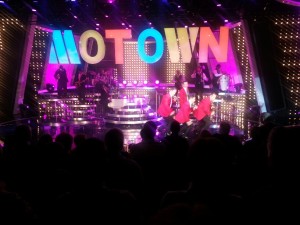 Currently The Venetian is running a special on its Luxury 650 square feet Luxury Open Floor Plan Suite at $159.00 per night. Now that is an awesome deal! For more information on accommodations and Human Nature Motown please contact guest relations at (702) 607-4644.
sheilarayreed@houstonsun.com
#The Venetian @ Las Vegas
#Human Nature Motown @ The Venetian