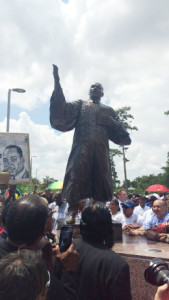 Thirty years later Ovide Duncantell's promise to Martin Luther King, Jr.'s father came to pass on May 24th at Mac Gregor Park.
The unveiling was hosted by Congresswoman Sheila Jackson Lee. An array of elected officials paid homage but the main attraction came from Civil Rights elder, Rev. Lowery and Martin Luther King,III, who delivered the keynote address in honor of his parents.
The theme of the event circled around did Dr. King die in vain. The future generations progress and struggles also was a strong primary topic of speeches.
The MLK, Jr. Pavilion and statue is located at Mac Gregor Park at Mac Gregor and Calhoun.
This statue is the testament of the hard and diligent work of Ovide Duncantell, the Black Heritage Society and benefactor Attorney Benjamin Hall, III.