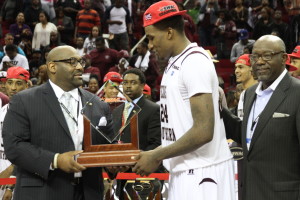 Texas Southern University Men's Basketball Team sailed through the 2014 SWAC Tournament at Toyota Center in Houston, TX to claim victory over its rival Prairie View A&M in a 78-73 win to advance to the NCAA Tournament.
The Most Valuable Player (MVP) nod went to Aaric Murray, as well as the Defensive Player of The Year. Murray had 27 points, 10 rebounds and four blocks.
The 6'10" 245 center led the SWAC in scoring for the entire regular season averaging 21.7 points per game while hauling in 7.7 rebounds per contest. He was TSU's leading scorer in 17 of their 29 games of the year. Defensively, he blocked a league of best 69 shots for an average of 2.4 per outing.
After more than a decade, Texas Southern University is heading back to the NCAA tournament where they will face Cal Poly in a first-round play-in game of the NCAA Tournament in Dayton, Ohio. TSU received a no. 16 seed in the 68-team tournament.
TSU is the third school Tigers' second-year coach, Mike Davis, has led to the NCAA Tournament. The winner faces last season's Final Four participant, Wichita State (34-0). Texas Southern and Cal Poly will tipoff at 5:40 pm on truTV from the University of Dayton Arena.