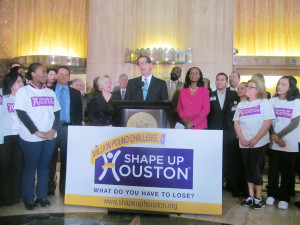 By: Myra Griffin
The Houston Sun
The city of Houston will sponsor and participate in Shape Up Houston's Million Pound Health Challenge that will launch in the month of January 2014. The challenge is for Houstonians to lose one million pounds collectively.
Shape Up Houston's campaign will last a year and address an issue that is plaguing cities all around America, obesity.
"Two-thirds of our adults are overweight or obese, as well as a third of our children," said Lan Bentsen, founder and chairman of Shape Up Houston- Million Pound Health Challenge.
They will tackle other health related issues such as diabetes, heart disease, stroke and cancer.
"The campaign will be voluntary, educational, fun and competitive," said Parker. "Within the city we will see friendly competitions between HEB stores, YMCA branches, fitness centers and ideally, hospitals and corporations."
Houstonian and city employee, Griselda Garza, modeled as she has lost 40 pounds over the past two years as she has helped fellow colleagues lose the weight and get in shape. She volunteers five days a week to teach a fitness class during the lunch hour.
"I just saw what a healthy lifestyle can do and now I want to share it," said Garza.
Shape Up Houston's approach has found success in other U.S. cities. They also have found a partner with HEB stores as a "Gold Sponsor" where they will engage in the challenge as well.
"I encourage companies across Houston to organize teams and participate. By challenging fellow employees, we will see real results as employees and our community join together to appreciate the benefits of good health," said Mayor Parker.
Bentsen noted that State Comptroller, Susan Combs reports that the indirect and direct impact of obesity on the state economy was 5 million in 2000, it doubled to 10 billion in 2010 and it is projected to triple t0 32 billion by 2030 if it is unaddressed.