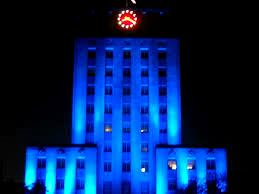 March is colon cancer awareness month, and to kick it off, City Hall will be lit up in blue lights, starting on March 4th. Please join us at City Hall that Tuesday evening at 5:30 p.m for the lighting ceremony. The blue lights will stay lit every night from March 4-8, so feel free to check out the light display any evening that week. Dark blue is the color designated for colon cancer awareness. Hope Through Grace, Inc. is a 501(C)(3) nonprofit organization that works to promote awareness of this deadly disease, which is the #2 leading cancer killer of men and women. Please help us to bring attention to colon cancer, and join us at this special lighting event. We look forward to seeing you there!
Date: Tuesday, March 4, 2014
Time: 5:30 p.m.
Location: 901 Bagby St, Houston, TX 77002
Sincerely,
Hope Through Grace, Inc.