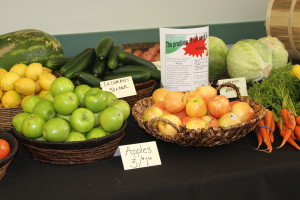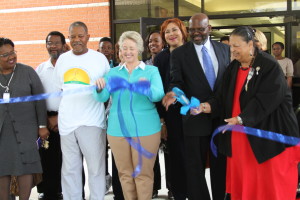 The Third Ward Multi-Service Center is the home for the Diabetes Awareness and Wellness Network (D.A.W.N.) and they celebrated their grand opening for the community to embrace the new health program targeted for diabetics and pre-diabetics.
D.A.W.N. provides fitness facilities and recreational activities, healthy foods and nutrition, educational behavioral change, education and coaching, diabetes self-management, groups and free membership for adults who have been diagnosed with pre-diabetic glucose levels and health risk factors for diabetes.
"D.A.W.N. diabetes center is for individuals who are either pre- diabetic or are already living with diabetes. We are a behaviorally based center where anyone who is pre diabetic or is diabetic can come to learn about how to really manage their diabetes and to eat better," said Assistant Director for the Health Department, Faith Foreman. "So we offer nutrition classes as well as a fitness center where they can come and work out and get the exercise and that fitness component they need to help them manage their diabetes and overall have a healthy life. So the center is complementary meaning that its free, there is no charge fee but you must become a member of DAWN."
When members come in they show their member identification, go through the intake process so they may receive an assessment of where they are. D.A.W.N. has an in-house coaching staff, which are nutritionist or counselors, stress management coaches, dieticians as well as behavioral modification coaches which will work with each member.
There are three different levels of membership but a variety of ways to be a part of D.A.W.N. It's open to anyone who has an interest in diabetes management.
"You have to be pre-diabetic, meaning your physician has told you, you're borderline diabetic or if you don't do preventive things in your lifestyle you may become diabetic so that means you may have an elevated glucose or elevated Hemoglobin A1c level or maybe you are taking care of a person with diabetes and you need to know more about how to make meal and really support them with diabetes and they too can become a part of the D.A.W.N. center," said Foreman.
D.A.W.N. has been open and functioning for the past six months. Mayor Annise Parker attended the grand opening and spoke about a healthier Houston.
"We wanted to see what we could do about wellness and disease prevention and we changed our entire model of healthcare," said Mayor Parker. "How can we be healthier as a community is the question and D.A.W.N. is a way to take both of those conversations and bring it down to the neighborhood and make it convenient?"
Barbara Walker, a member of D.A.W.N. , joined because her husband, Lee is a diabetic. They both joined to be more informed.
"We already knew a lot before we joined during the summer but it's always good to get new information," said Walker. "The exercising equipment and the dietician are a big help. I generally need the dietician so we can get the newer information."
D.A.W.N. will partner with physicians, clinical and service provider organizations to assist members. To become a member of D.A.W.N. sign up at the Third Ward Multi-Service Center 3611 Ennis, Houston, Texas 77004 or call 832-393-4055. Free and open enrollment with a coach is on Tuesdays and Thursdays and classes are available now on Tuesdays and Thursdays 10 a.m. to 3 p.m. Classes may vary weekly.
The program also offers: understanding diabetes, kidney smart, looking good feeling good, self – monitoring your blood sugar, avoiding complications of diabetes, healthy eating, fitness room, availability for health achievement and maintenance level members, meal planning and food selection, eating well, understanding diabetes, exercise together, fitness room availability for health achievement and maintenance level members.