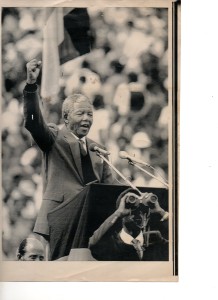 By: Sheila Ray-Reed
​
Nelson Mandela, South Africa's first black president and Nobel Peace Prize Winner, who served 27 years in prison for his stance against white minority rule in South Africa has died at the age of 95. The announcement was made by South African president Jacob Zuma, who said in a nationally televised address," Our nation has lost its greatest son. Our people have lost a father. Although we knew that this day would come, nothing can diminish our sense of a profound and enduring loss." The anti-apartheid trailblazer has been in failing health for months.
​He is being remembered as one of the world's most revered statesmen who led the struggle to replace the white racist apartheid regime of South Africa with a multi-racial democracy.
President Obama had once described Mandela as a personal hero when he was a law school student and said he was inspired by him. "It gave me a sense of what is possible in the world when righteous people, when people of good will, work together on behalf of a larger cause," said Obama.
​Born Nelson Rolihlahla Mandela in Transkei, South Africa, he joined the ANC (African National Congress) and fought apartheid. He was eventually arrested and charged with attempting to overthrow the government. During his trial Mandela expressed his beliefs about democracy, freedom and equality.
​In 1964 he was sentenced to life in prison. Mandela said, "In prison, you come face to face with time. There is nothing more terrifying." Mandela termed his years in prison as the "long, lonely, wasted years. By the time he turned 70, he was the world's most famous political prisoner.
​Bowing to international pressure in 1990, South African President F.W. de Klerk lifted the ban on the ANC and released Mandela from prison. In 1994, Mandela became president of South African serving from 1994 to 1999.
​In 1999, Mandela came to Houston to deliver his views on world affairs during a speech at the James Baker Institute for Public Policy at Rice University. Dorris Ellis, Publisher of The Houston Sun recalls meeting him on that visit. "The Houston Sun covered the Apartheid Movement with numerous stories where local anti-apartheid activist such as Ada Edwards keep it on the front burner," said Ellis.
​"During the reception at Rice University, I thank him for his service. I saw him as a very focus humane leader who understood the significance of his work and the impact it had on the world. He knew his place in history," Ellis said.
​The Rev. Bill Lawson, pastor emeritus of Wheeler Avenue Baptist Church traveled to South Africa and had an opportunity to meet Mandela. He says he was struck by Mandela's inner strength which he believes allowed him to survive being imprisoned for fighting white minority rule.
​Mandela had been hospitalized in Pretoria in early June, after a series of lung infections that may have been related to his bout with tuberculosis while in prison a quarter-century ago. Once released from the hospital, he had live in a sterilized environment at home. A team of doctors attended to him around the clock.​
​Nelson Mandela is survived by his wife Graca Machel, his former wife, Winnie Mandela and three daughters Pumla Makaziwe, Zenani Mandela and Zindziswa Mandela.