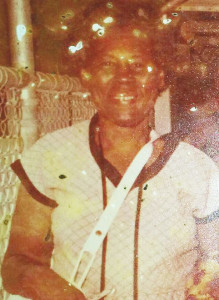 HEARNE — Pearlie Golden, a 93-year-old Central Texas woman, who was fatally shot at her home by a police officer Tuesday evening has caused a stir in the city of Hearne as the community stands to say enough is enough.
Golden, was shot five times by Officer Stephen Stem after he was called out to Golden's home following a dispute with a family member. Golden allegedly had a gun and refused to put it down.
The community rallied together on Thursday in front of the Hearne City Hall to demand the removal of Officer Stem from his job and to express their disgust with law enforcement's attitude towards minorities.
"We need to stand up and be bold, because this is what all this killing is about," said activist Quanell X, who led the rally. "We need them to stop the killing of us and we need to stop the killing of us."
Golden, a longtime resident of Hearne, death is not the first time Officer Stem has killed a citizen on duty as he shot and killed a young man in 2012.
"This was really a surprise to everybody that a rogue officer would kill a 93 -year- old woman, but he is the same one who killed a young man who was over here in the village," said William Foster, III, a community activist. "He shot him in the back as he was running away now he goes and kills a 93 – year -old woman and he shoots her five times. This is unacceptable and we have to take a stand."
Nearly a hundred or so people stood in a circle surrounding a propped up Quanell X listening to his words as they search for some type of understanding.
"We are rallying this time. The last time this happened nothing was done," said LaShunda White, whose husband is the cousin of the deceased and neighbor as well. "She could have been talked down, they didn't have to shoot. The community is hurt and feels unsafe. It's not about race but about doing the right thing. She (Golden) is my husband's cousin and we live down the street. We heard the five shots and when we came to see they said she was alive still but we knew she was gone."
There will be rallies and vigils but on the city side there will be a City Council meeting held on Saturday to discuss the matter.
Mayor Ruben Gomez told the Sun that, "On Saturday we will discuss what happened, how it was handled and we will make a decision from there. Recommendation from the mayor is that we go ahead and terminate the officer because there is a loss of confidence in the community. The community has lost confidence in the officer and this is something that the city of Hearne does not want to have employed."
By the end of the rally the crowd began to chant, No Justice, No Peace, their cries expressing their direct sentiment, no peace.
"He needs to be fired and he doesn't need to work in Texas. He doesn't need a gun wrapped around his side anywhere in this state," said Foster. "He has tasted Black blood and he will continue to do it. We need to get rid of him."
Officer Stem has been placed on paid leave pending an investigation into Tuesday's shooting.
With a community size of about 4,500 persons, Hearne doesn't have much room for discontent amongst the people and the officers whom are sworn to protect and serve them.
"There is no way to become comfortable with a police department that appears to be racist. There must be a different mindset in the leadership of the police department from the mayor, city manager, the council members that elect the Police Chief," said Quanell X. "The Police Chief sets the standards for the attitude and mindset towards the community, towards his officers. They have to put pressure to bring in the right type of leadership for these police stations and then they can expect to see some type of change in the community."
According to Hearne Police Department, Golden did not die immediately and was transported to a hospital in Bryan, where she succumbed to the wounds and died.
A revolver believed to be the weapon Golden had at the time of the shooting was found at the scene by officers, the statement said. She was taken to a hospital in nearby Bryan where she died from the injuries.