By: Myra Griffin
Recently elected District D Councilmember Dwight Boykins has hit the ground running and with speed as he hosted his first Capital Improvement Plan at Cullen Middle School, Thursday February 20, 2014.
Councilmember Boykins had representatives from the City's Finance Department, Public Works and Engineering Department,and Parks and Recreations come out to address his constituents. Each department gave a brief overview and status update on the current issues they are working on such as streets, drainage, Emancipation and Hermann Park.
City officials explained about the cost, debts and bonds that go along with the repairs requested. The model showed the phase of Repair, Rehabilitation and Reconstruction.
After presentations the audience was allowed to ask questions and receive responses from the city departments that handle that specific issue.
At Large Councilmembers were present, C.O. Bradford, Michael Kubosh, David Robinson and Jack Christie.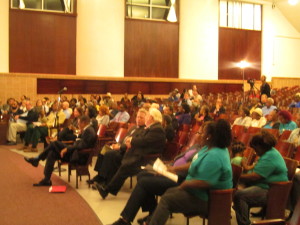 -Full article in Houston Sun Newspaper